Student Anne Mckeown worked on these drawings over the period of ten weeks that our "Humans and Non-Human" course lasted this 2020 Spring Quarter at Kalamazoo College. I'm grateful she agreed to let me post these images she sent.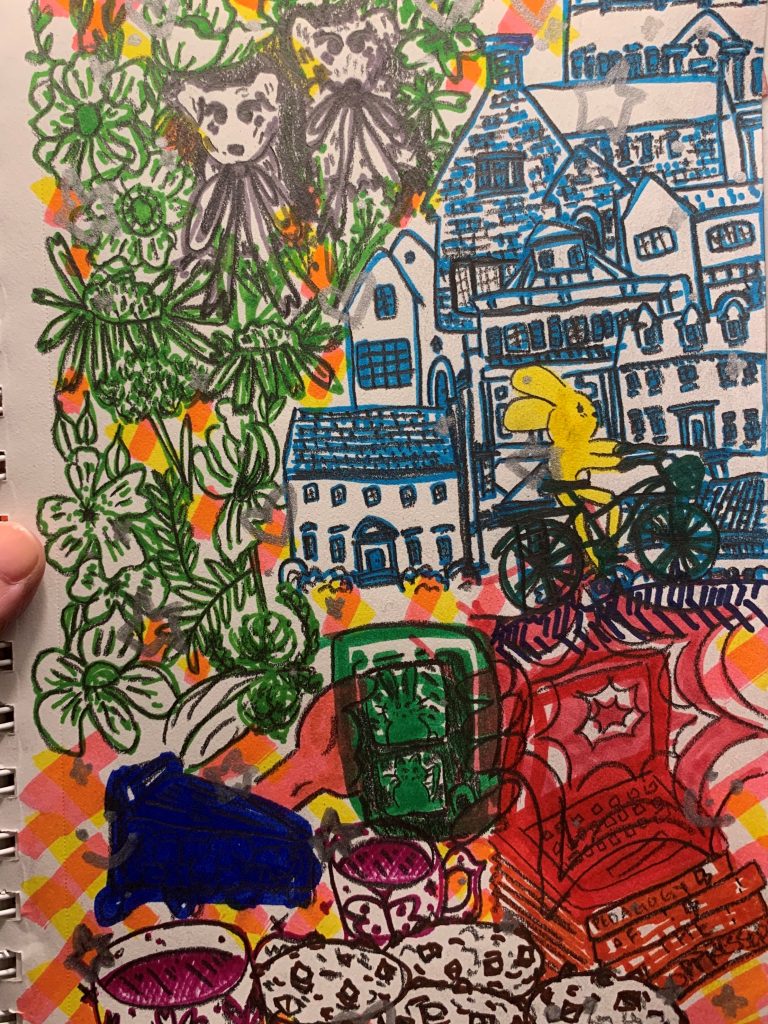 About this art, Anne says: "It has a lot of humans and non-human themes tied it to take you through the piece starting in the bottom left corner we have a piece of blueberry pie that was the focus of a lot of face-times that my two friends and I had. you can see the pie is holding my phone with my friends on the screen represented here as a bunny and a cat! Under that we have two tea cups with flowers and butterflies on them to represent the tea my friends drink together when we do homework. We then have cookies to the left of that which I would bake as an excuse to see my friends. in the bottom right there is my computer with a little explosion of light coming out of it on top of a stack of books that reads Pedagogy of the Oppressed referencing the book of the same name by Paulo Freire, a very important text now more than ever and one that has had a lot of influence over my world view. Above that we see a teenage bunny riding a bike with a backpack which is a reference to all of the teenagers I see getting together in the park across the street from my house. Above that are some houses I see on my walks around the neighborhood and on the top middle sit my two dogs Donner and Rosie with bows around them to look like leashes to symbolize how the walks we take together are really a gift. And then along the left side of the page are some native Illinois wild flowers that I planted in my yard and have had a really great time watching them grow."
Anne continues, "I'm pretty sure that's everything in there but this piece was really a helpful way to show appreciation and digest and physically look at the ways I have been spending my time at home and who and what has been contributing to my time here. I think looking at the world through a lens of human vs non-human helps put your world view in perspective and you can easily flush out your personal priorities from there. Doing this work definitely helped me work through what mine is."
Share your responses to these drawings below in the comments section or email the artist at Anne.McKeown18@kzoo.edu.