Closing Thoughts
By Owen Bersot
We are all in the midst of transition as this wild term winds down…I'll be taking a lot with me from "States, Bodies, and Epidemics" and I thought it would be appropriate to mark the end by sharing what I've been thinking about during this time.
As the weirdest and most unimaginable term of school winds to a close, my thoughts in general come to ending and closing- death in a certain way. Death is naturally a topic that is parceled into the landscape of pestilence. In navigating death and dying, we rely heavily on the shared meaning held in our communities and the histories of our communities to breathe meaning into our experience. Now more than ever, individuals and communities are faced with death and its significance on a totally unprecedented scale.
With the convergence of the COVID-19 pandemic and the recent wave of protests against the racist murder of Black Americans at the hands of state power through the police force of this land, death and dying in the Black community must especially be the voice of our collective listening, the suffering for which we must have space in our hearts, and the dignity which we aim to humbly uphold. The death care industry in this country is one made up largely of small businesses who serve local communities, and it is small businesses which suffer disproportionately by the hand of pestilence.

Furthermore, it is small businesses that were formed by Black Americans, create employment in Black communities, and provide services in the Black community that will suffer the most among those businesses. The terrible irony of the plague is that even small businesses in death care are put at grave risk, because not a single COVID-19 body may be taken into their care. And the dead are denied the appropriate rites of passage that give meaning to the living. The contagion and the state prevent it. Indeed it is in the name of public health, but what public health is there where people can neither make peace with their grief nor share the joy of life with family after the death of a loved one? How will we live our lives if we are forced to accept a grief which is itself half-buried? We MUST grieve to live, and there is no life, no health, in this.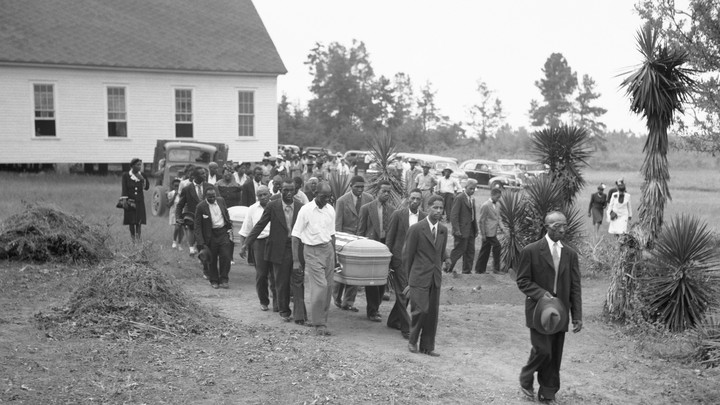 Any philosophical individual who wishes to understand the meaning of life must first understand the meaning of death, because it is from this that we fashion our glimpse at the world. They are of the same substance. And to jeopardize one's path to making meaning in life and in death is to strike at the very core of their humanity- an offense that should deeply terrify us all. An offense made possible by racist institutions and the limits of human empathy, and magnified by pestilence.

This is an injustice acted out on the basis of our differences as human beings, but it strikes at that life-giving process of meaning-making that we all, though in different forms, are intimately linked together in. This is a call to justice- to act out of love for manyness and oneness- an injustice on the basis of difference is an injustice against what we all share, and to threaten what we share must be felt by us all. This is the call to justice and love in the time of the plague and the somber harvest we must reap from it in the time to come as well.
You can respond in the comments below or email the author at Owen.Bersot17@kzoo.edu.